Join Us for A Night of Giving Holiday Event at Our House Tavern (December 16)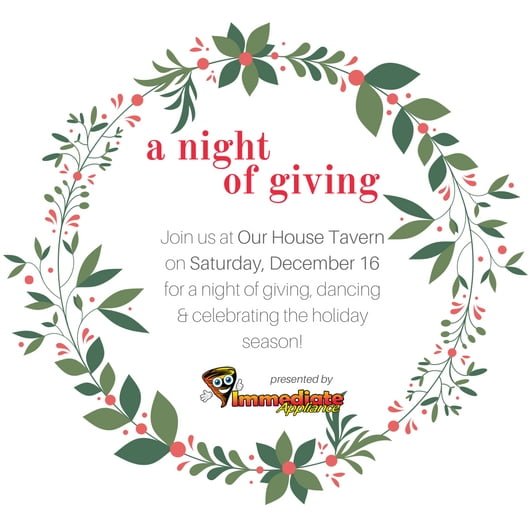 Join Immediate Appliance and Our House Restaurant for an evening of giving, dancing and holiday merriment!
On Saturday, December 16, Immediate Appliance in partnership with Our House Tavern and Banquet Facility will host A Night of Giving to benefit the Emergency Housing and Advocacy Program of Freehold, New Jersey.
Friends and family members will gather at Our House Tavern in Farmingdale from 7 to 11 p.m. in order to raise money and donations for the homeless. Activities will include an ugly holiday sweater contest ($100 cash prize) as well as photos with Santa from 7 to 9 p.m. You can earn a free drink at the bar with a clothing donation.
The event will also include a live music performance from The Wired.
Below, check out the official Amazon wishlist for the event, as well as a list of items needed by the Emergency Housing and Advocacy Program.
Recommended donation items:
Walmart and ShopRite gift cards
OTC reading glasses
Nail clippers
Watches
Q Tips
Tissues
Body wipes
Boxer shorts
T-shirts
Shorts
Pants
Socks
Hats
Gloves
Stamps
Jackets
Our House Tavern is located at 420 Adelphia Rd, Farmingdale, New Jersey 07727