Electrolux Design Lab: High Tech Appliance Concepts Of The Future
 Every day, innovative forward-thinkers are imagining, inventing, and engineering the appliances and machines of tomorrow. It's highly likely that someday – in the not-too-distant future – our homes will be equipped with singular machines that wash, dry, press, and fold our laundry for us, or intuitive ovens that can cook our favorite recipes entirely at the push of a button. 
Each year, Electrolux, one of the leaders in appliance innovation, hosts an international design competition for young inventors and innovators called the Electrolux Design Lab. Thousands of undergrad and graduate students enter their design ideas and concepts for technologically advanced appliances and home-based machines, with one student walking away with a large cash prize and a highly-sought paid internship with Electrolux.
 Here at Immediate Appliance, we are always looking towards the future for new ideas to implement in running our business for optimal customer satisfaction, so we can appreciate a good innovation, especially when it comes to this particular field. To celebrate forward-thinking design, innovation, and creativity, here are our top 5 favorite Electrolux design competition entries from the past few years, below: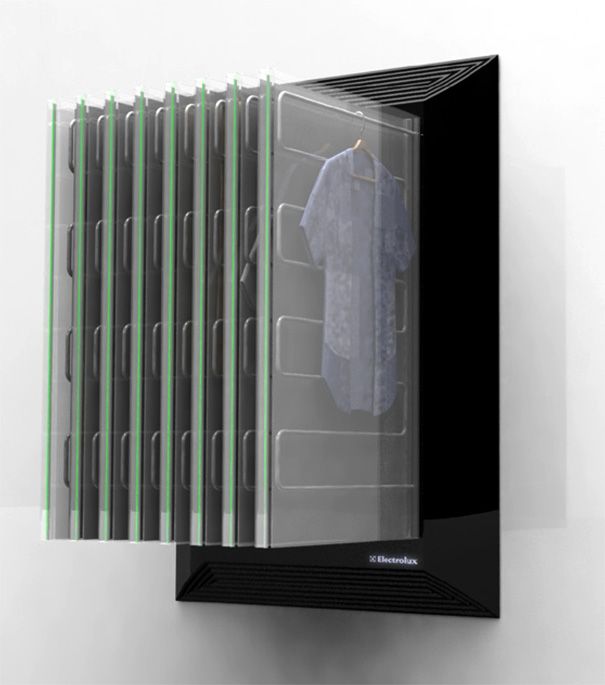 1.) We love "Memory," the intuitive coffee maker (perhaps the most important appliance in any household) designer by Wen Yao Cai (China). This design utilizes hand-print recognition technology to brew the perfect personalized cup of coffee for the user.
2.) How cool is this bio-robotic refrigerator design by Yuriy Dmitriev (Russia)? Using biopolymer gel cooled by luminescence, food is stored suspended in a non-sticky green gel that saves space and keeps food fresh with minimal energy.
3.) Imagine hanging your clothes up in your closet and having your closet do your laundry for you. "The Clean Closet" by Michael Edenius does just that: As you hang your clothing up in the closet (dirty or clean), LED scanning searches the fabric for impurities and dirt while an advanced molecular process cleans and deodorizes, ensuring that when you remove the item(s) for dressing they are freshly cleaned.
4.) "Aeroball," designed by Polish student Jan Ankiersztajn, uses tiny floating bubbles that hover in place around your home while cleaning and purifying the air. Aside from being super cool and totally space age, these bubbles don't take up much space and make sure that the air you're breathing in is virtually dust-free and clean, helping you breathe better.
5.) In a future where space might be quite limited, the notion of a communal kitchen (that is, a kitchen area used by a community of people rather than a single family or resident) isn't so far off. But what about a communal kitchen that you never even have to enter to cook in? Using the virtual reality thought-transmitting headset of the "Kitchen Hideaway," designed by Daniel Dobrogorsky (Australia), users can merely imagine their meal while robotic chefs create it in a remote location, removing the need for individualized kitchen space.
What crazy and inventive appliances would you like to see in your future home? Or do you prefer more traditional appliance machines?