Give the Gift of Preventative Home Maintenance This Season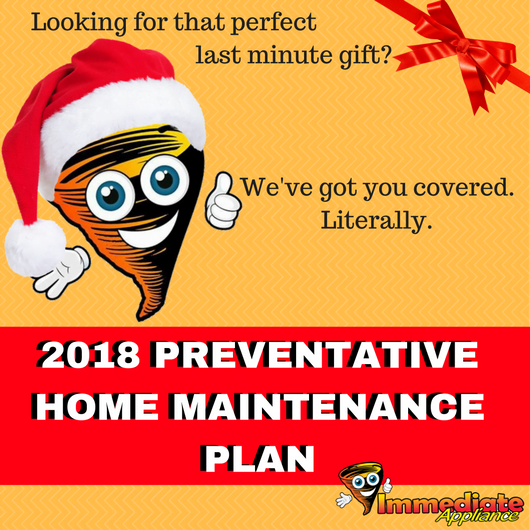 At this point we're just counting down the days to Christmas and, if you're anything like us, you're probably running behind on your holiday shopping and desperate for ideas on what to get for those hard-to-shop-for family members and friends. Don't worry: we've got you covered!
Give the gift that keeps on giving this season: Immediate Appliance Service's 2018 Preventative Home Maintenance Plan! If you've got a homeowner to shop for, our affordable, inclusive Preventative Home Maintenance program makes for the perfect present. The best part? You don't need to trek to the mall to pick it up!
Immediate Appliance's Preventive Maintenance Plan can help prevent over 90% of all repairs and increase efficiency by 20% or more – all of which can prevent emergencies and lower home expenses for years to come, making it an ideal year-round gift.
Our plan includes:
REFRIGERATOR: Clean condenser coils; 10-point-check including airflow and temperature; and all other functional parts.
WASHER: Change two inlet hoses (if needed); clean water inlet screens. Sanitize machine.
DRYER: Blow out dryer vent; provide and install up to four feet of aluminum flex, if needed.
DISHWASHER: Clean circulation pump screen, filters, and spray arms. Sanitize machine.
OVEN: Check and calibrate temperature; check flame distribution.
CENTRAL AIR: 10-point check; check refrigerant, clean condenser coils; check fan motors, check air flow, check electrical parts and others.
GAS FURNACE: Clean burner tubes; oil fan motor; change filter (provided by customer)
WATER HEATER: Flush unit; check efficiency, clean and inspect burner.
HUMIDIFIER: Clean unit; inspect water distribution and fittings.
Upon signing an agreement, you can expect (1) a FREE service call with repair, (2) 20% off parts and labor on future repairs for 365 days, (3) preventive maintenance service once a year, (4) 90 days warranty on service, and (5) 2-year warranty on all parts – up to 8 times the parts coverage offered by many major manufacturers.
Call us today at 1-732-250-0063 to purchase our Preventative Home Maintenance Plan just in time for the holidays!