Five Tips For Saving & Not Stressing During Your Memorial Day Weekend BBQ
Memorial Day Weekend is finally here! It's time for friends and family, refreshing pool swims, lots of colorful fireworks, and, most importantly of all, delicious BBQ food. But while Memorial Day Weekend BBQ parties are an American backyard staple in kicking off summer, they can get expensive and stressful quickly and easily.
Even though you're supposed to be relaxing and enjoying your friends, family, and festivities, it's easy to get overwhelmed and stressed out by the cost of throwing a great BBQ. Fear not though, party-throwers and party-goers, cause we have you covered, below, with these five finance-friendly Memorial Day BBQ tips for saving YOU some green this weekend.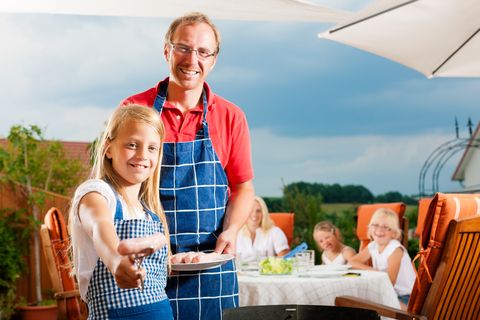 Memorial Day Weekend BBQ Saving Tips
1.) Buy In Bulk
If you're throwing a big Memorial Day BBQ bash, chances are you'll be needing plenty of food to feed all your friends, family members, and neighbors. Memorial Day weekend BBQs are all about about the grille, which is great because it's super easy to buy grilling foods like hot dogs, burgers, chicken, and kebabs in bulk quantities. Buying in bulk can also save you money, since it's usually cheaper to buy in large quantities. You can easily find food in bulk at stores like Costco or Sam's Club.
2.) Make It A Potluck/BYOB
Between the decorations, the drinks, and the food, a Memorial Day BBQ can get expensive… and fast! But you don't have to cover all the expenses all by your lonesome. Instead, make it a potluck or BYOB party, where friends and family can contribute by bringing food and/or drinks for the party! Not only will this take some of the stress off your shoulders financially, but it's also a fun way for everyone to take part and share their own special cocktails and recipes!
3.) Save Those Leftovers
Grilled foods keep well as leftovers, and chances are you'll have plenty of food left over from your big BBQ bash. Don't just go tossing out good food. Save that grilled steak and chicken – you can use these later in salads and sandwiches, or just toss your meats back onto the grill with a marinade to reheat.
4.) Don't Use Throwaway Plates & Cutlery
Plastic and paper plates, cups, and cutlery might seem the way to go for a large party, but truth be told, disposable dinnerware can get incredibly expensive. What you are gaining in convenience you are sacrificing in cost. Instead, you can purchase inexpensive reusable plastic dinnerware or even use your regular dinnerware which can later be washed in the dishwasher. This way, you don't have to throw away money after your guests are done with their plates. Plus, since maybe BBQ foods are finger-foods, there's a good chance you won't need too many plates!
5.) Use A Homemade Marinade/Rub
A little brown sugar and fresh fruit juice goes a long way! "Gourmet" bottle marinades can get expensive (plus, they can contain preservatives). Instead, wow your guests with a homemade fresh marinade or smokey rub using inexpensive ingredients like herbs, brown sugar, peppers, fruit juices, vinegar, soy sauce, garlic, mustard, and more! You can get super creative with various easy, quick marinade or rub recipes while staying within your BBQ budget. Plus, if you marinade the night before your BBQ, it will save you time the day of your party and give your meats and veggies a burst of flavor!
Some extra tips for saving:
– Check your grocery store for coupons and specials on products you need
– Buy generic/store-brand snacks like chips, candy, etc.
– Skip the soda and instead opt for homemade iced teas, mixed juices, and lemonades
– Opt for poultry over more expensive beef and steaks
– Fruit makes a great, healthy inexpensive dessert
Will you be throwing a BBQ party this holiday weekend? What are some of your favorite tips and tricks?